Fore!!! Frozen Margaritas are Flowing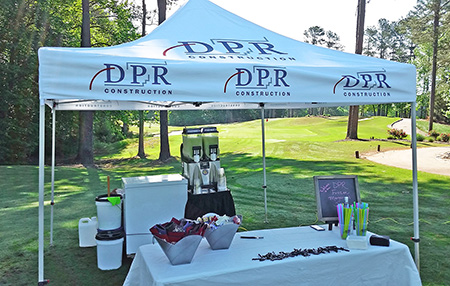 Fore!!!  Frozen margaritas are flowing at the DPR Hardin tent at the 10th tee of the Atlanta Trophy Club!  We're serving up margaritas to the tournament players as they try to cool down on this hot day here in Atlanta.  It is an honor to be here again as guests of DPR Hardin and be part of the Circle of Trust 19th Hole Classic.  Every year this tournament raises money for the Prostate Cancer Foundation.  A lot of great people here who are teeing off for such a great cause! 
Doing frozen drinks out on a golf course has its challenges and lots of companies don't have the resources or abilities to do it.  Anytime you freeze outside, depending on the temperature, you always could run into trouble … not to mention power requirements on the golf course.  But with our machines and guaranteed method of providing frozen drinks regardless of weather, facilities or size of the crowd,  we were able to make this day a huge success.  We even had Chopper mascot for the Gwinnett Braves stop by our tent!