Atlanta AmericasMart Vendors Love Margaritas!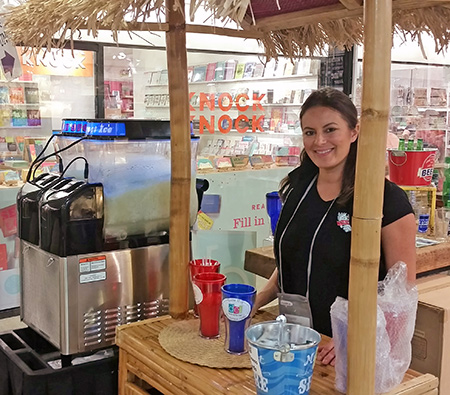 Atlanta Americasmart is a happening place this week! It is time for the January Gift and Home Furnishings Market. Various showrooms spread across the three buildings in downtown Atlanta have us busy this week as thousands of people from all over the world convene here in Atlanta. We have margaritas flowing galore at Dennis East Inc. on the 17th floor of building #2. We have been working with DEI for a number of years at both the January and July Gift markets. Typically in a four day period we give out approximately 150 gallons of frozen margaritas in one of their souvenir cups. This year was no different!
Our Margarita booth was a huge draw bringing many customers to their showroom to browse and shop through their large variety of gift shop items. Greg, Lisa, and all the DEI Sales reps and staff are such a delight to work with!
Being Atlanta's largest and oldest frozen drink provider gives us a leg up on the competition. With over 20 years' experience in the frozen drink industry we know what it takes to make any event work and be a success. Americasmart showrooms have their own unique challenges but we love working with all our customers there. It is truly an honor that they trust us to come into some of their busiest weeks of the year as they reach and serve their customers.